If there is a way your business interacts with the public, there is a way your web site can help facilitate that interaction.
The day of the brochure-ware web site is over. If people need to conduct some business with you, they probably expect to be able to do it online. And when they do, chances are it is less costly for you and more satisfying for them.
Whether someone needs to get directions, order a product, open a support ticket, pay their rent – you name it – there is an increasing probability that they will start by going to your web site to get it done. In almost every business process there is a part for a web site to play.
Client
This division of a maintenance technology company specializes in the aircraft industry. This client's 10+ year old web site had been historically used primarily for support, but badly needed a refresh for marketing pizzazz.
Project Profile
The company's traditional marketing strategy never emphasized its web presence, but its support organization depended heavily on it.
Increasing market pressure eventually required this long-overdue update with a new emphasis on marketing and product information.
The significant support requirements had to be handled too, but updated with more modern tools for a better user experience.
Customers may look up service centers, open service tickets and complete RMA request forms online.
Solution
The new multi-function web site was assembled in Joomla, the leading free, open-source CMS tool for building dynamic, full-featured web sites. The requirements for the site's many support features were met using the wide array of sophisticated and affordable extensions available for the Joomla platform. Images were obtained through a stock photo subscription service and a quality commercial template was purchased and modified to address the company's branding needs. Two smaller sister-sites were built at the same time using configured variations of the same template for continuity.
Features
An attractive template combined with striking photos provides the site with instant visual appeal and a modern look.
A rotating image banner addresses each of the company's main market segments and links to additional marketing material for each segment.
An event extension was added to provide a show calendar. A content module on the home page provides easy access to show and event data.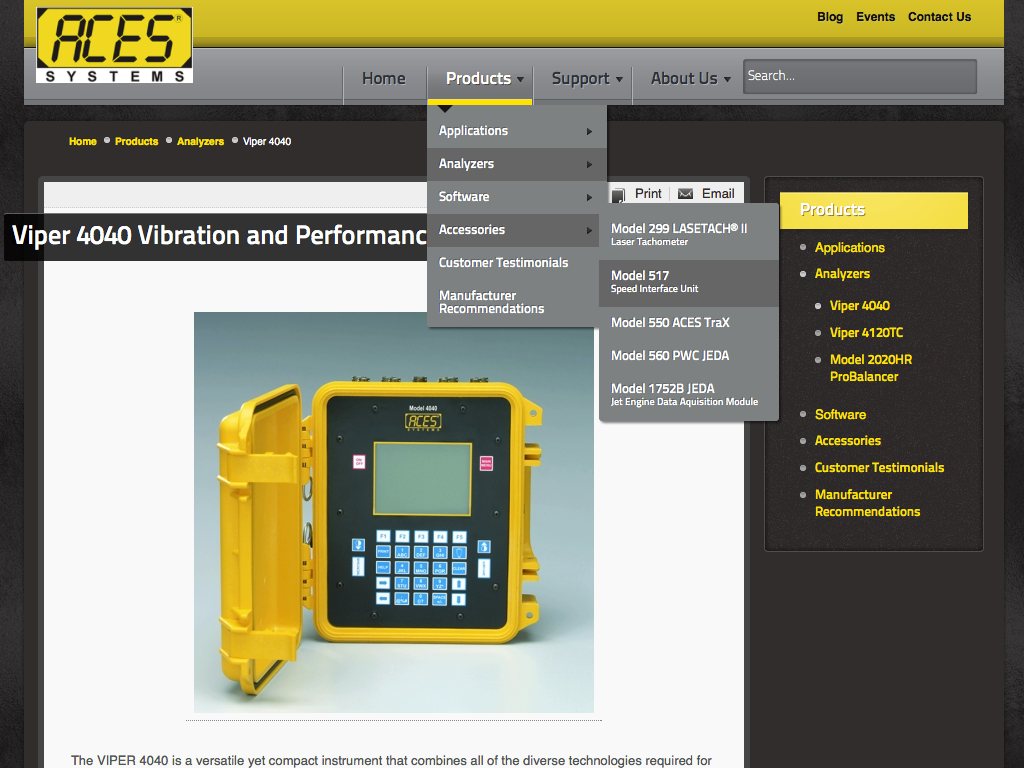 The client's own staff utilizes Joomla's extensive content management features to add and update the site's content without having to involve web development professionals.
Pages of product data are organized in an hierarchical menu by category. Product pages include images, features, technical specifications and downloads as applicable.
A download management extension provides access to the many downloadable support files, including the technical publications, software downloads and training materials.
A search extension allows users to search the library of technical publications.
A form extension was installed and forms were built that allow customers to initiate support activities online. Posted forms result in emails being sent to appropriate personnel.
A redirect extension ensures that important URLs from the old site are forwarded to the correct resources on the new site.
An interactive world map allows visitors to find sales reps that service their regions.
Metamedia built a full-featured web site to address a broad range business functions, addressing both its potential customers and its current customers.